Dynalco DST2000C Direction Sensing Speed Switch/Transmitter
Dynalco DST2000C 方向感应速度开关/变送器
DST-2000C方向感应转速表可测量和监视旋转,速度,速率,流量等方向。能够驱动转速表和向上/向下计数器以提供速率信息以及总净流量,长度,距离等。可以驱动并行5个SPD-300(方向感测显示器)。输入电源:115 Vac和/或12或24 Vdc。
The DST-2000C direction sensing tachometer measures and monitors direction of rotation, speed, rate, flow, etc. Capable of driving tachometers and up/down counters to provide rate information as well as total net flow, length, distance, etc. Can drive up to 5 SPD-300 (direction sensing displays) in parallel. Input power: 115 Vac and/or 12 or 24 Vdc.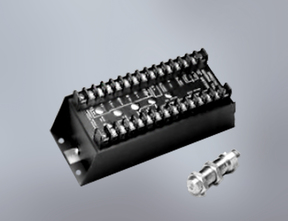 Dynalco DST-2000C 方向感应速度开关/变送器