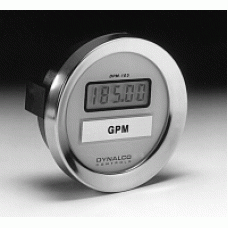 DPM-105 Universal Digital Panel Meter数字面板仪表

对于低温运行,可另购LCD加热条。
For low temperature operation, an optional LCD heater strip is available at additional cost.

坚固:无仪表运动;全固态。标准SAE机箱适合带有3-3 / 8"开口的面板。
密封:耐酸气和湿气,以防止模拟仪表运动中的弹簧腐蚀。
大型0.4英寸高位数:液晶显示器,一位数的分辨率。显示对比度随环境光线的增加而增加。非常适合户外安装。
通用,现场可调:读数范围从零到1999,具有集成的多圈跨度电位计。
第三方认证:(本质安全)CSA: Class I,Division 1,A,B,C和D组,额定8–40 Vdc,10 mA。根据Dynalco图纸B8008843连接到CSA认证的齐纳屏障设备时,符合本质安全标准。ABS:证书编号92-QE-10237-X。
自动归零:接通电源后,零输入的读数为" 0000"。可以将单位从0校准到1999年以前的任何显示范围。仪表仅在信号变负时才显示负。正负读数遵循输入信号的极性。
电源:可以从8到40 Vdc供电。在9 V时仅消耗0.5 mA。
信号:接受接地和不接地的信号源。
Rugged: No meter movement; all solid-state. Standard SAE case fits panels with 3-3/8" openings.
Sealed: Resistant to sour gas and moisture that attack springs in an analog meter movement.
Large 0.4" High Digits: Liquid Crystal Display, 1-digit resolution. Display contrast increases with increasing ambient light. Ideal for outdoor installations.
Universal, Field-Adjustable: Adjustable readout ranges from zero to 1999, with integral multi-turn span potentiometer.
Third Party Approvals: (Intrinsic Safety) CSA: Class I, Division 1, Groups A, B, C, & D, rated 8–40 Vdc, 10 mA maximum. Meets standards for intrinsic safety, when connected to CSA certified Zener barrier devices per Dynalco drawing B8008843. ABS: Certificate No. 92-QE-10237-X.
Auto Zero: Readout is "0000" at zero input with power applied. The unit can be calibrated from 0 to any display range up to 1999. The meter indicates negative only when the signal goes negative. Positive and negative read-outs follow the polarity of the input signal.
Power: Can be powered from 8 to 40 Vdc. Consumes only 0.5 mA at 9 V.
Signal: Accepts grounded and ungrounded signal sources.
Product Code: DPM-105